CPR Compliant
Company Statement
Cleveland Cable Company confirms that all our cables manufactured after the 1st July 2017 have been assessed in line with CPR regulations where applicable, and come with all supporting documentation.
The Legislation
From 1st July 17 all non-fire performance cables introduced into the EU market which are to be a permanent fixture in a building or construction must comply with CPR and be rated and certified accordingly. The legislation applies across all construction products across Europe and aims to provide harmonised standards to all new building projects.
The Cables are assessed against:
Flame Propagation
Smoke Emissions
Flaming Droplets & Particles
Acidity
Classification
Products are classified from A to F in accordance to their flame propagation properties, with additional classifications for their reaction to smoke, flaming droplets and acidity.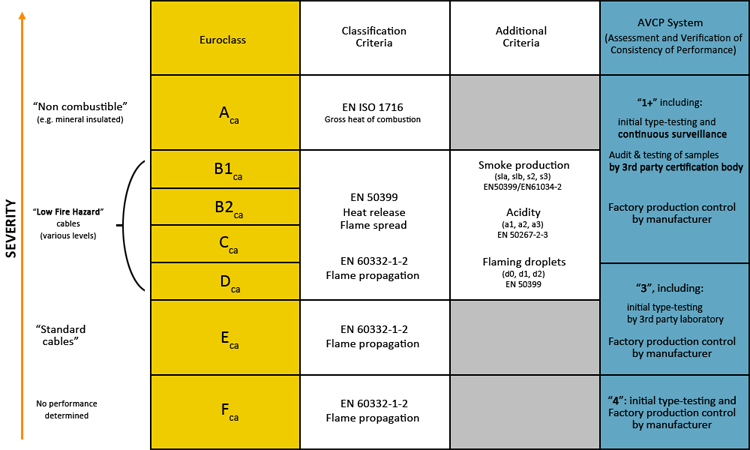 Testing
Fire Testing to EN 50575
Factory Inspection
Type Testing
Must be accredited Notified Lab
Factory surveillance program twice a year
Every three year per cable "family"
initially upon application
UK includes BASEC and BRE (LPCB)

Extended to 5 years with previous consistent test results
Affected Cleveland Cable Products

Compliance to CPR
Compliance to CPR is verified by the CE Marking on the product or the packaging. Cleveland Cable Company cut tickets will show the same information as the drum, but with additional details. The Manufacturer Declaration of performance certificate is kept on record at Cleveland Cable and is available on request.

REMEMBER:
Suppliers and end users have a responsibility to check whether CE labelling with CPR classification is available on the packaging for all applicable cables manufactured after 1st July 2017. Cleveland Cable Company confirm that all applicable cables sold have the CE mark and CPR rating. DoP for all applicable cables can be provided on request. If you are in any doubt, please call our QA team who can demonstrate compliance to CPR including full traceability.
Cleveland Cable QA Contact Details:
QA Manager Jason Hodgkinson
Phone 01642 757 300
Email CPR@clevelandcable.com
For more information, please refer to the following download - What is CPR?